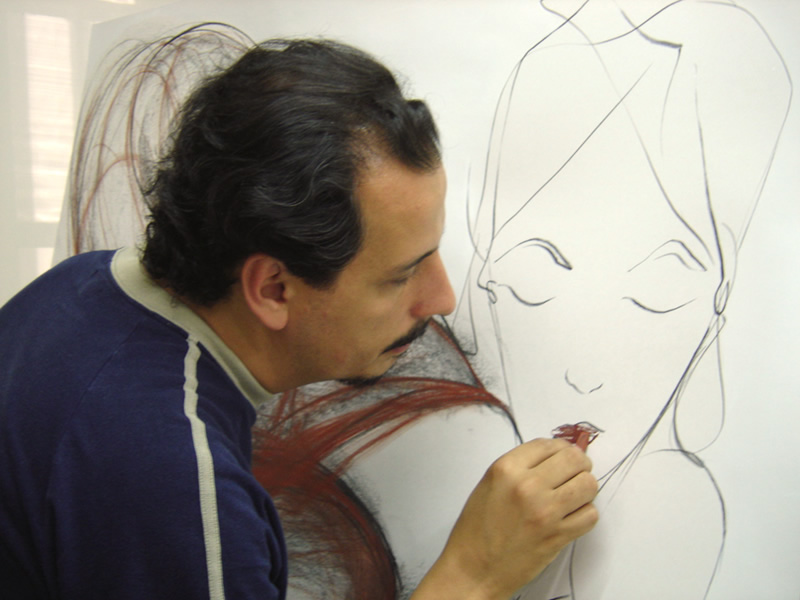 Leontina Etchelecu, Art Curator
"…Throughout his work we can realize about the influence of German Expressionism, from which Casiano declares himself a deep admirer; but his figurativeness arrives with graphics.
There is a recurrent reference to Argentine History within his drawings and works in ink. This serves him as an anchor and it allows him that his historic characters can benefit from paraphrases even further than their represented images.
An example of this is the series, "Blind Fish" which synthesizes Roque Saenz Peñas' address opened at the Congress in 1901 in reference to politicians' lack of vision in those days.
In a kind of pictorial-narrative conciliation, which reveals his concern about current topics, he can print/engrave on a woman's limb old newspaper clips as well as outline Ebola virus and brief strokes of chromosomes.
His frozen women comprise oriental comic, but different from this genre, in Casiano's gain size and volume increased by the movement of lines that mold them…"
Mariana Castagnino, Museum Curator, Art Critic
I strongly believe works of art must not be explained.
Who could explain what these snowy women with extended arms try to tell us or hide from us?
Immaculate bodies with slightly defined faces appear on a first layer over layers of different textures, revealed or unrevealed graphics. Unfinished phrases, shapes which appear from below others show us much more than the easy reading of representation.
…blank sheets from folders, meticulously reproduced catch the chaos from red, light blues and whites.
And it is finally in that hidden chaos where our attention is caught, where the need of an explanation simply does not make any sense.
There is mystery in Casiano's artwork; the best way to distinguish it is just to let oneself be seduced by his apparently sleepy women to go deeper into the realm of his creation.
Cesar Magrini Art Critic, Writer
"…Casiano owns a kind and clear-cut design which knows about concessions and he possesses a warmth which shows itself flawless with a guiding inspiration which is limitless. He dives like the fisherman who emerges from the depths with his trophy as a pearl conquered by himself, in this case, his painting discovery as his genuine variety whether it comes from German expressionism in his "Erotic Suite" or from a perceptible oriental air, while in other of his works, he does not limit himself to any copy. On the contrary, his works remind us about folded paper generated by the ancient origami art.
Casiano León knows how to take from his curves all his meditative enchantment and he also has the ability to divert straight lines into compositions of heroic lineage. He imagines, dreams and turns into admirable fruits all that becomes from his imagination. This is made visible for all those who contemplate his various works, a multifaceted treasure. Works of art that show maturity, a mysterious and magic recollection, fruitful results ready to be harvested ."